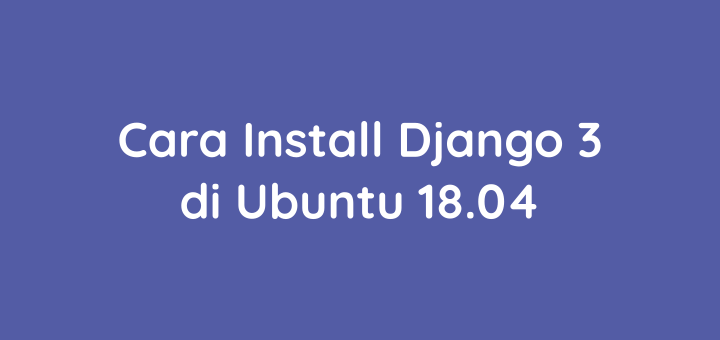 Django adalah open source web framework yang ditulis dalam bahasa pemrograman Python. Kelebihannya cepat dalam pengembangan aplikasi (rapid development), mudah dalam skalabilitas aplikasi (scalability), dan dapat menggunakan kode yang sudah ada (reusability).
Dalam tutorial ini, kita akan melakukan install Django 3 untuk kebutuhan development environment di atas sistem operasi Ubuntu 18.04.

0.Kebutuhan Perangkat Lunak
Perangkat lunak yang dibutuhkan dalam install Django 3:
1.Install pip
pip adalah package manager untuk Python packages. Dengan pip kita install dan mengatur libraries dan dependencies tambahan yang dibutuhkan oleh aplikasi yang kita kembangkan.
Install pip untuk Python 3.
sudo

apt

install

python3

-

pip

-

y
Verifikasi install pip.
pip

9.0.1

from

/

usr

/

lib

/

python3

/

dist

-

packages

(

python

3.6

)
2.Install virtualenv
virtualenv adalah virtual environment yang ditujukan untuk aplikasi Python. Dengan menggunakan virtualenv, setiap proyek aplikasi Python terisolasi dengan global environment dari sistem operasi. Isolasi Python environment ini dapat mencegah package conflict antar proyek aplikasi Python dan envrionment sistem operasi.
Install virtualenv.
Verifikasi install virtualenv.
3.Install Django
Install Django di dalam virtualenv dengan menggunakan pip.
Membuat direktori django-apps.
Membuat virtual environment dengan nama env.
Aktifkan virtual environment.
Setelah mengaktifkan virtual environment, terdapat prefix (env) sebagai tanda bahwa virtual environment aktif.
(

env

)

dev

@

django

:

~

/

django

-

apps

$
Install Django menggunakan pip.
Verifikasi install Django.
4.Membuat Django Project
Membuat Django project dengan nama djangodemo.
django

-

admin

startproject

djangodemo
Jalankan Django dengan menggunakan development server.
python

manage

.

py

runserver
Hasil perintah menjalankan development server.
Django

version

3.0

,

using

settings

'djangodemo.settings'

Starting

development

server

at

http

:

//127.0.0.1:8000/

Quit

the

server

with

CONTROL

-

C

.
Development server berjalan di port 8000.
Browsing http://127.0.0.1:8000.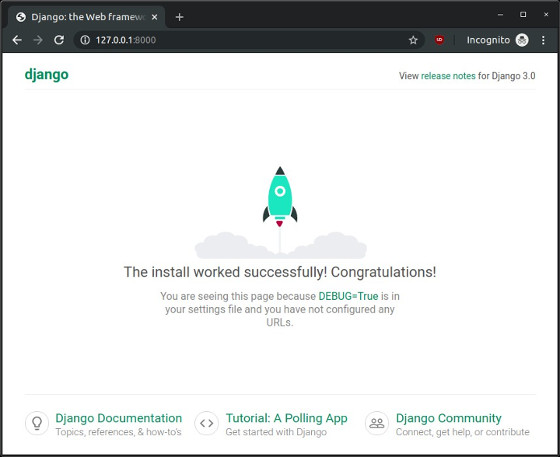 Untuk menghentikan development server tekan CTRL+C.
Untuk menonaktifkan virtual environment jalankan perintah deactivate.
(

env

)

dev

@

django

:

~

/

django

-

apps

$

deactivate

dev

@

django

:

~

/

django

-

apps

$
Selamat mencoba 🙂