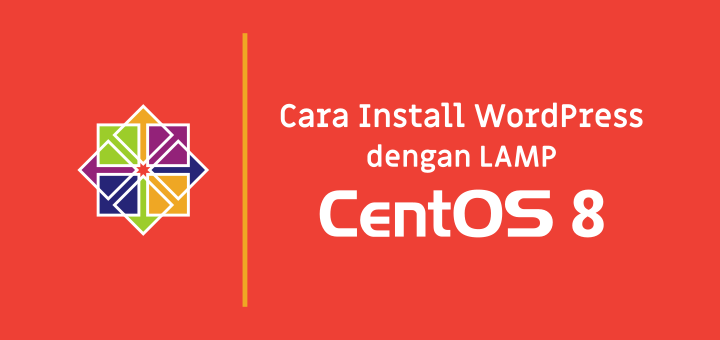 WordPress adalah perangkat lunak kategori Content Management System (CMS) yang dikembangkan menggunakan bahasa pemrograman PHP dan database MySQL/MariaDB.
Pada tahun 2019, sebanyak 34% website yang ada di internet memakai WordPress. Sementara untuk market share CMS, WordPress mendominasi sebesar 60% dibandingkan CMS lainnya.

0.Perangkat yang Digunakan
Perangkat yang digunakan di tutorial ini, yaitu:
Vultr VPS CentOS 8
Apache 2.4
MariaDB 10.3
PHP 7.2
WordPress 5.2
1.Install Apache
Install Apache web server.

dnf install httpd -y
systemctl enable --now httpd
systemctl status httpd	

Masukkan service http ke dalam FirewallD agar web server dapat diakses.

firewall-cmd --add-service=http --permanent
firewall-cmd --reload
firewall-cmd --list-services	

Baca tutorial lengkap Cara Install Apache di CentOS 8
2.Install MariaDB
Selanjutnya install database MariaDB.

dnf install mariadb-server -y
systemctl enable mariadb
systemctl start mariadb
systemctl status mariadb	

Membuat database dan usernya untuk WordPress.

mysql -u root -p

create database wordpress;
create user 'user_wordpress'@'localhost' identified by 'password_wordpress';
grant all privileges on wordpress.* to 'user_wordpress'@'localhost';
flush privileges;	
exit;	

Baca tutorial lengkap Cara Install MariaDB di CentOS 8
3.Install PHP
Install PHP beserta extension yang dibutuhkan.
dnf install php php-mysqlnd php-gd php-ldap php-odbc php-pear php-xml php-xmlrpc php-mbstring php-snmp php-soap
Jalankan service php-fpm.

systemctl enable php-fpm
systemctl start php-fpm
systemctl status php-fpm	

Baca tutorial lengkap Cara Install PHP dengan Apache di CentOS 8
4.Install WordPress
Download WordPress.
wget -c https://wordpress.org/latest.tar.gz -O wordpress.tar.gz
Extract dan copy isinya ke direktori /var/www/html.

tar xzvf wordpress.tar.gz
cp -Rv wordpress/* /var/www/html
cd /var/www
chown -R apache:apache html
chmod -R 755 html	

Browsing http://ip-server.
Klik Let's go!.
Masukkan informasi database MariaDB yang telah dibuat sebelumnya.
Copy konfigurasi yang tampil.
Buat file wp-config.php dan paste.

cd /var/www/html
vi wp-config.php

Lalu klik Run the installation.
Masukkan informasi website, seperti judul dan akun admin. Lalu klik Install WordPress.
WordPress telah selesai diinstall.
Selamat mencoba 🙂